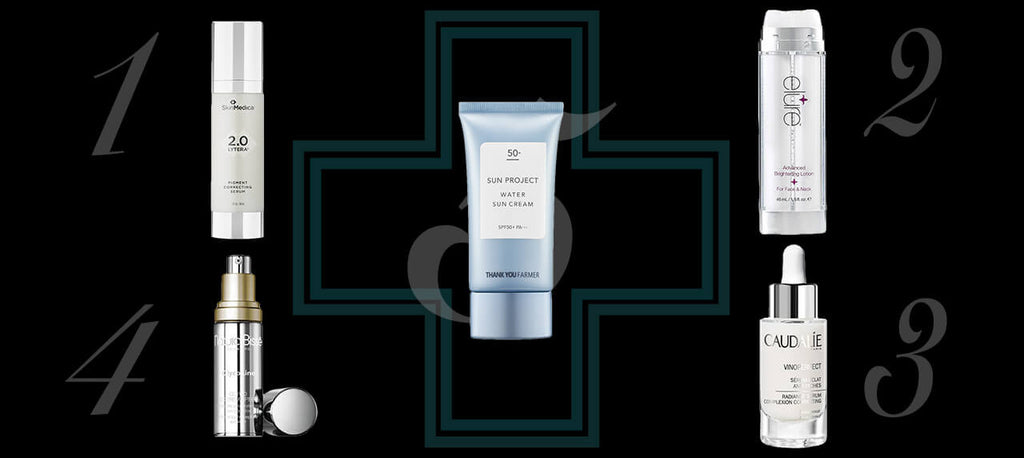 When speckles go beyond freckles, brightening treatments will restore an even skin tone. Sun spots develop due to a combination of genetic tendency and environmental exposure, and best results require a synergistic approach of topical active ingredients. Dermatologist Dr. Noëlle Sherber addresses causes of hyperpigmentation, from sun spots to melasma, with customized combinations of skincare and in-office procedures, and here shares tips along with some of our favorite products to treat uneven skin tone and to maintain your results over time as you enjoy fun in the sun.
SkinMedica Lytera 2.0
While new brightening products launch frequently, it's rare that one has solid science to back it up. Lytera 2.0 is a state of the art brightening serum that demonstrated improvement in dark spots and uneven pigmentation as soon as 2 weeks in clinical studies, with benefits becoming more dramatic at 12 weeks.  It features tranexamic acid, a non-hydroquinone non-retinoid active ingredient that has been garnering global interest as a topical brightener after improvement was noted in patients who received it systemically to stop bleeding due to surgery or trauma. This formula combines it with phytic acid and niacinamide for a synergistic pigment lightening effect, and has the added advantage of incorporating ingredients that are considered to be in pregnancy-safe teratogenicity categories so this is a good option for those looking for a treatment option for melasma or sun spots while pregnant. Dr. Sherber is glad that this has now launched: "Tranexamic acid has been appearing in the dermatologic literature in recent years, and I have been waiting for a clinically-proven and gentle formulation to be available in the U.S. so that I can now add it to my customized brightening regimens for patients." Lytera was tested with twice-daily full face application and we recommend this for best results, in combination with broad spectrum sun protection, although this can also be applied in combination with other skin brighteners once your skin acclimates to your regimen.
Tranexamic acid has been appearing in the dermatologic literature in recent years, and I have been waiting for a clinically-proven and gentle formulation to be available in the U.S. so that I can now add it to my customized brightening regimens for patients.
Elure Advanced Brightening Lotion
Elure's standout product is their Advanced Brightening Lotion, which has, in additional to performing strongly in clinical studies, won numerous awards from Allure, InStyle, Essence, and other national publications for its dramatic results and gentle hydroquinone-free formulation. The active ingredient, lignin peroxidase which they term "Melanozyme," is derived from tree bark, and breaks up uneven pigmentation gently within a few weeks.  In a 28-day study, 82% of the subjects demonstrated a significant decrease in their melanin index, and 91% of the subjects showed an overall improvement in pigmentation and skin tone.  Dr. Sherber advises, "I often recommends this as an adjunct to laser treatments targeting unwanted pigmentation, or sometimes as a companion product to prescription pigment lightening creams because it is so gentle: when skin is prone to post-inflammatory hyperpigmentation it's critically important not to inflame the skin and because this isn't an acidic product it is exceptionally mild."
Caudalie Vinoperfect Radiance Serum
This serum is Caudalie's most popular product internationally for good reason.  In a study Caudalie conducted of 60 patients over 3 months, dark spot intensity improved by 83%. Its alcohol-free antioxidant-rich blend is powerfully soothing, making it an ideal addition to a brightening regimen to prevent irritation and possible inflammation.  Dr. Sherber explains, "skin that is prone to dark spot formation is often prone to post-inflammatory hyperpigmentation, so I like my patients to use anti-inflammatory topical treatments consistently to counteract any possible irritant effect of other active treatments we pursue, from topical exfoliants and brighteners to in-office peels and lasers, to ensure consistent improvement. This French beauty secret not only really works, but it is a joy to apply." Sometimes we advise mixing this serum into Elure or Lytera for a super-serum cocktail.
This French beauty secret not only really works, but it is a joy to apply.
Natura Bissé Glyco Extreme Peel
This is the only at-home peel that Dr. Sherber has found to deliver results that are close to those of an in-office peel. The formulation blends 5 alpha hydroxy acids, a beta hydroxy acid for synergistic effect, and a proprietary peptide that ensures even depth of delivery. Glycolic acid has been proven with skin biopsy studies to stimulate collagen production, making it a gold standard anti-aging ingredient, and it also works to break up clumps of uneven pigmentation. It allows all other skincare products to absorb more deeply by dissolving the dead skin cells on the skin's surface, which is one reason why regular exfoliation is key to a brightening regimen. This product is ideal for protecting your investment of in-office peels, but also works well on its own, and, delivers value at $10 per face treatment ($20 if treating face, neck and chest). As your skin acclimates to the potency of this product, applying in a warm shower will delivery an even more powerful treatment.
Thank You Farmer Water Sun Cream Broad Spectrum SPF50 PA+++
Absolutely essential to achieving a more even skin tone is daily application of a broad spectrum sunscreen with mineral filters. This SPF50 PA+++ sunscreen from South Korea is the most lightweight mineral-containing sunscreen that we have found, and Dr. Sherber contacted the company after reading reviews citing its featherweight finish and tenacious protection. We are one of the first to bring this product into the U.S. and have been barely able to keep it in stock.  With an average of 11 steps in a Korean skincare regimen, there is intense demand for lightweight sun protection and this product delivers: a mix of mineral and chemical sunscreens makes this formula powerful, yet it manages to provide the highest degree of UVA and UVB protection with airy coverage. Dr. Sherber sourced the primary documentation submitted to the FDA for approval for U.S. sale of the product because she wanted to ensure that it wasn't too good to be true, and it has passed all the requisite tests. The mineral component of a sunscreen is important for those with hyperpigmentation because it provides physical protection, like wearing a tee-shirt, and this product avoids the common pitfall of a chalky finish no matter your skin tone.