5 FAVORITES: MEN'S GROOMING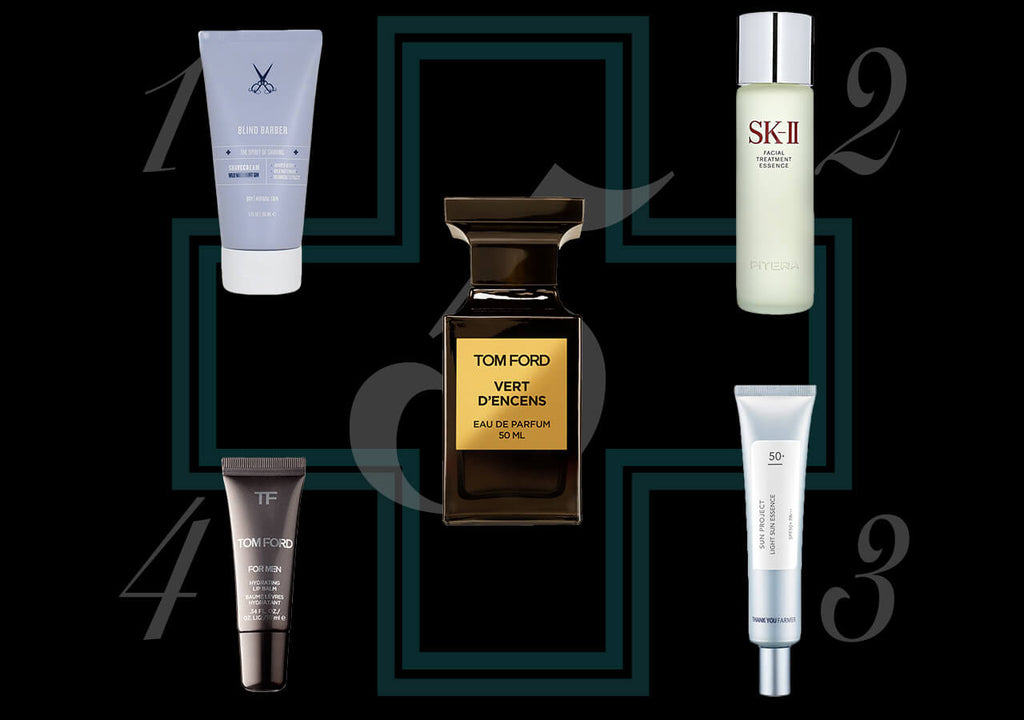 Blind Barber Watermint Gin Shave Cream
Shaving cream is a staple in many men's routine, and choosing one with top quality hydrating and moisturizing ingredients both ensures a close shave and prevents skin irritation.  This barbershop brand originated in Manhattan and has developed an intensely loyal following due to the its cutting edge formulations.  This contains hydrating glycerin and moisturizing shea butter, as well as allow to soothe.  Plastic surgeon 
Dr. Ariel Rad
 shaves daily with this cream and shares this tip: "I recommend applying this product immediately after a shower.  The heat, steam, and shave cream work together to has soften skin and stubble to ensure a smooth shave without razor burn."
SK-II Facial Treatment Essence
Men's skin differs from women's because it is thicker, and it has more oil production due to higher oil gland density and testosterone activation of oil production.  This can mean that skin is be more prone to breakouts and shaving bumps, and that it develops shine throughout the day.  SK-II's famed Treatment Essence contains 90% Pitera, which is the ingredient they found addresses these these issues, making it popular with men since it delivers rapid results with a water-light texture.   Makeup artist
Enrique Valentino
 recommends this product for post-shaving application and explains, "after shaving I gently press a few drops of the SK-II Essence into my skin, I love how this lightweight fluid instantly hydrates and soothes. It also keeps future shaving bumps at bay by increasing skin cell turnover with Pitera, SK-II's legendary proprietary ingredient sourced from sake fermentation in Japan." 
Thank You Farmer Light Sun Essence Broad Spectrum SPF50 PA+++
Daily sunscreen is essential to skin protecting against skin cancer, and to preventing skin aging from UV exposure.  A recent study demonstrated that 100% of subjects showed improvement in skin texture and pigmentation after a year of daily sunscreen use, in the absence of any other anti-aging treatments, so shielding your skin from environmental damage will make a significant impact.  Dermatologist Dr. Noëlle Sherber advises,"men often find heavy sunscreen texture to be a deterrent, and so this vanishingly light fluid sunscreen is popular with my patients who want to be able to forget that they applied their SPF.  I discovered this product from a South Korean company, and it's no surprise that this innovation is coming from a country in which the average skincare regimen is 11 steps, putting a premium on light textures: you can streamline and apply on its own or on top of moisturizer."
TOM FORD Hydrating Lip Balm
One of the quickest ways to look well-groomed is to have smooth lips, and most lip balms geared towards men (i.e. not overly glossy) are wax-based and don't confer meaningful moisture.  Some also have camphor and actually worsen chapped lips and rough texture.  This blend of natural oils and vitamin-rich butters conditions lips to improve smoothness, and seals in moisture in any weather conditions.  True to Tom Ford's style, the packaging is designed to be stashed in a suit pocket or jeans pocket for on the go reapplication.
TOM FORD Vert D'Encens
Winner of the 2017 Fragrance Foundation Award in the Men's Luxury category, this scent is a new classic.  Inspired by the coast of Corsica, known as "the perfumed isle" for its aromatic air, it is a versatile fragrance owing to its sophisticated and rugged balance which we see men appreciating in their increasingly multifacetedly lives.  It blends smoky notes of incense, woody notes of pine resin and fir balsam, and fresh notes of lavender and lemon into a blend that Tom Ford describes as at once "distinguished" and "delectable."