5 FAVORITES: IN-FLIGHT ESSENTIALS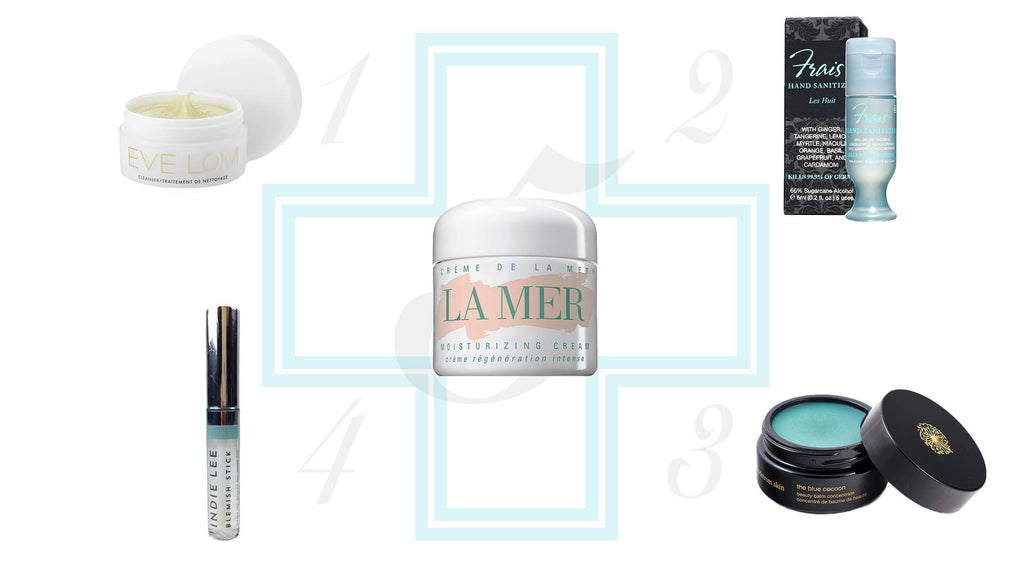 Dry airplane air and traveling between climates can be a recipe for skin that's out of sorts. Here are some travel skincare tips I share with patients, as well as product picks to keep with you in your carry-on. These essentials include gentle but effective hand sanitizer and blemish spot treatments, as well as
 solid cleansers and moisturizers which not only won't

 spill in transit and make a mess of your luggage but also won't count towards the infamous TSA "ziplock" baggie of liquids.
[section asset=question-1.png]
Eve Lom Cleanser
[section single_product=eve-lom-cleanser-50ml]
This cleanser, described by Anna Wintour, Editor in Chief of Vogue, as "probably the best cleanser in the world," is remarkably effective. The proprietary blend of oils (Egyptian chamomile, eucalyptus, clove, and hops) cleanses deeply because oil dissolves best in oil: this melts away even waterproof sunscreens, which is great for active vacations. The formulation emulsifies and turns milky when removed with the accompanying muslin cloth and warm water, leaving skin feeling soft and perfectly clean. One of the common post-travel skin concerns I see among patients is skin irritation from hotel towels, so I suggest traveling with these muslin cloths or your own washcloths if you have sensitive skin since hotel detergents can be harsh and cause eczema from the commercial-grade chemical residue.
[section asset=question-2.png]
Frais Everyday
[section single_product=frais-everyday]
Hand sanitizer is a must when traveling, since saying healthy needs to be a priority. The FDA has now banned antibacterial ingredient triclosan from rinse-off hand soaps, but, interestingly, not from leave-on hand sanitizers. Triclosan can cause hand eczema and I recommend that it be avoided. This Australian formula is triclosan-free, and instead relies on sugarcane alcohol. To balance out the drying effects of the alcohol, it incorporates a blend of natural essential oils (ginger, tangerine, lemon myrtle, niaouli, orange, basil, grapefruit, and cardamom), which make it pleasant to use without lessening its efficacy.
[section asset=question-3.png]
May Lindstrom The Blue Cocoon
[section single_product=may-lindstrom-the-blue-cocoon]
This unique product is a facial oil in solid form so it is another great carry-on product that won't count as a liquid in your carry-on. It is handmade in L.A. without preservatives or synthetic fragrance, and so is excellent for sensitive skin types, and derives its distinctive color from blue tansy oil which has renowned soothing properties. In an interview with SHERBER+RAD, May Lindstrom said that The Blue Cocoon "was the formula I dreamed about my whole life and the one I am most proud of and personally attached to" and it has garnered an intensely loyal following based on the intensely nourishing results it delivers. You can apply it anywhere that needs extra moisture, such as hands, cuticles, or lips, and can reapply throughout the flight if skin feels parched. It is also an excellent vacation companion to soothe chapped skin whether from skiing or jetskiing.
[section asset=question-4.png]
Indie Lee Blemish Stick
[section single_product=indie-lee-blemish-stick]
The airplane restroom has such notoriously harsh light and can make it tempting to attempt self-surgery on nonexistent blemishes that appear in the mirror there. This spot treatment is a much better idea. It's an invisible quick-drying clear gel with a wand applicator that can be dotted on spots, and the formula is so sheer that it can be applied over or under makeup. The potent blend of salicylic and glycolic acids, along with natural acne-fighters zinc, camphor, witch hazel, and sulfur, shrinks acne quickly and effectively without over-drying the skin and causing a peeling spot which can be more unsightly than the blemish itself. It's always good to have a spot treatment on hand while you're traveling in case a blemish arises as an unwelcome visitor, and this one is discrete enough to keep with you: just be sure not to confuse the chic packaging with a lip gloss!
[section asset=question-5.png]
Crème de La Mer
[section single_product=creme-de-la-mer]
This moisturizer has a legendary following due to its skin-soothing properties, and, since it's a solid texture at room temperature it's an ideal choice for your carry-on. Sea water minerals are very calming to the skin, and this formula combines them with a blend of oils - including sesame seed oil and eucalyptus leaf oil - which is renowned for its ability to repair the skin's barrier, so this is good for cushioning the skin against arid airplane cabin air. To apply, be sure to warm the product between your fingers until it becomes translucent and then press gently into the skin. You can apply a generous additional layer mid-flight if skin feels dry and you'll be amazed how much skin will absorb before landing.
[section slider linklists=in-flight-essentials]