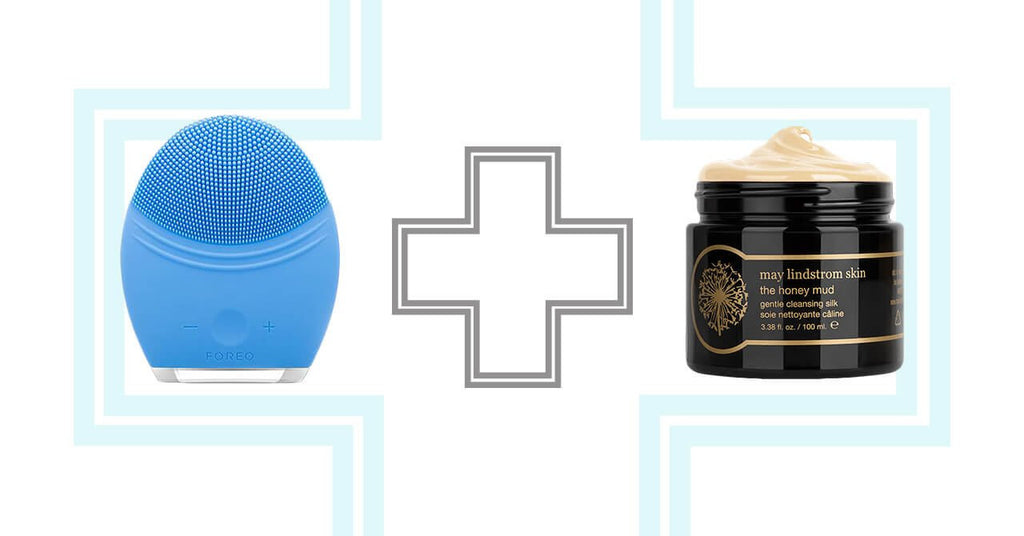 Having completely clean skin is the foundation for having great skin, and this dynamic duo gives you the deep clean result of a spa treatment at home... no appointment necessary.

FOREO's top of the line LUNA 2 Professional ultrasonic cleansing brush generates up to 8,000 transdermal sonic pulses per minute for exceptional cleansing. This Swedish innovation is an upgraded version of the original device with a larger surface area for cleansing the skin, and is suitable for all skin types. Dermatologist Dr. Noëlle Sherber recommends silicone cleansing brushes specifically, because "the microscopically smooth surface can be kept completely clean and won't harbor bacteria which can lead to breakouts and skin inflammation."
[section single_product=foreo-luna-2-professional]
The Honey Mud gives an experience unlike any other, with a sweet scent from natural oils of macadamia nut, cocoa, sweet orange, ylang-ylang and vanilla. These oils, along with raw honey and a blend of clays, will leave even the driest skin feeling healed and nourished. This dual purpose cleanser can either be massaged into damp skin and rinsed clean or applied to dry skin for 10-20 minutes as a mask. As an at-home deep cleansing treatment Dr. Sherber recommends applying it as a mask, dampening the skin, and then buffing with the FOREO to remove completely and enhance absorption of the active ingredients.
[section single_product=may-lindstrom-the-honey-mud]