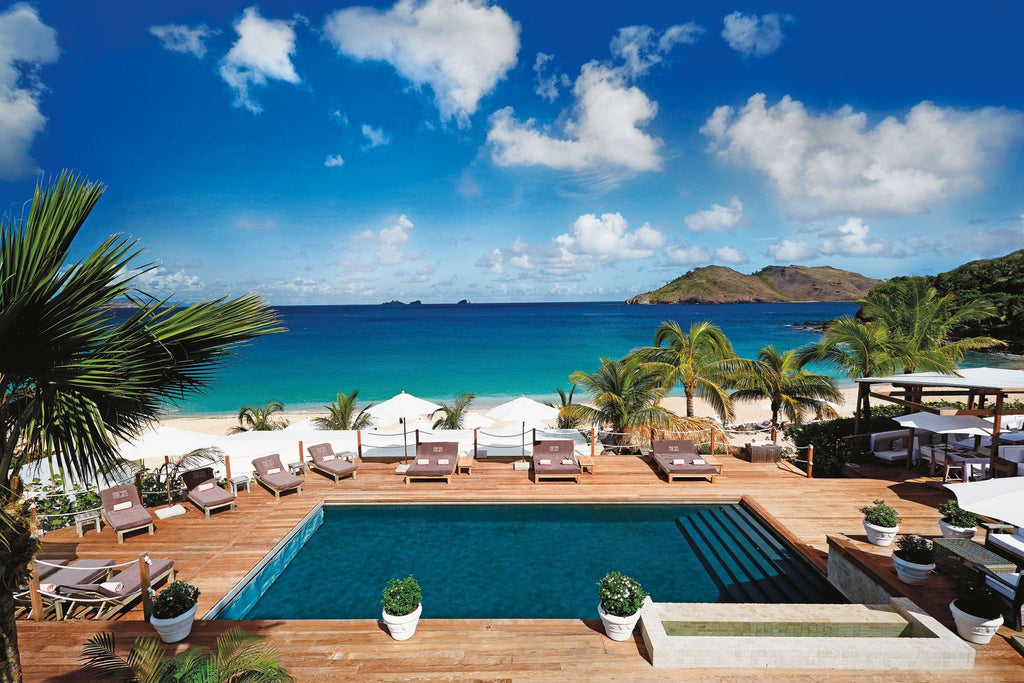 board certified dermatologist Dr. Noëlle Sherber gives an exclusive look at the ultimate in-sun essentials to protect and perfect your skin
[section caption=PHOTO CREDIT: ST-BARTH ISLE DE FRANCE]
Before we say our final bon voyage to summer, a few final poolside moments may be on the agenda before fall. Whether it's lounging overlooking the Caribbean or relaxing behind the privet hedges in the Hamptons that beckons, Dr. Noëlle Sherber has you covered (truly, from head to toe) with her coveted sunscreen and après-sun selections to protect and nourish the skin.... and who doesn't love when your beach bag can double as a portable spa stocked with some of the best products in anti-aging.
[section asset=question-1.png]
Soleil Toujours with Dr. Noëlle Sherber Perpetual Radiance Tinted Fluid SPF20
[section single_product=soleil-toujours-with-dr-noelle-sherber-perpetual-radiance-tinted-fluid-spf20]
"This natural-meets-high-tech formulation took me more than 2 years to develop because we worked with 3 different labs until it was just right. I often recommend facial sunscreens with a hint of tint because, not only do they perfect the complexion, but you can see if you miss an area, which is key to preventing sunburn. I had a personal interest in creating a 100% mineral sunscreen because I have sensitive skin but was committed to creating one with a truly second-skin finish. This fluid also incorporates powerful antioxidants and antiagers at clinically active levels which is rare in a sunscreen, and the click pen packaging is a breeze for hands-free poolside reapplication. When I pull this out of my tote I always get questions about it!"
[section asset=question-2.png]
Natura Bissé C+C Dry Oil Antioxidant Sun Protection SPF30
[section single_product=natura-bisse-c-c-dry-oil-antioxidant-sun-protection-spf30]
"Not too rich and slick, but not sting-y and drying, this is the Goldilocks 'just right' mist of a dry oil sunscreen which has become my poolside favorite. It absorbs quickly into the skin leaving it smooth and moisturized and has good water resistance to last through a cooling dip in the pool or surf. I love this both for body and for hair, which can easily get dried out and brittle from summer sun. The formula is enriched with high quality vitamin C, as well as vitamin D, and the airless packaging is great for travel. Citrus oils can be photosensitizing, but this Spanish brand did its homework and made this citrus-scented product sun safe even in tropical conditions."
[section asset=question-3.png]
Eve Lom Kiss Mix
[section single_product=eve-lom-kiss-mix]
"It's so important to protect your lips from sun exposure and lip balm without SPF acts like a reflector, only intensifying UV rays which can lead to precancerous skin damage and even skin cancer. This extra emollient balm contains mineral sunscreen zinc oxide to reflect sun. If you find that your lips sting or get chapped when you use lip balms with chemical sunscreens, look for a balm with a mineral sunscreen. This balm also contains mint for a cooling sensation that's super refreshing in hot weather."
[section asset=question-4.png]
SK-II Mid-Day Essence Spray
[section single_product=sk-ii-mid-day-essence-spray]
"One of my favorite poolside tips is to get an ice bucket, stock it with mineral water so that you are sure to stay hydrated, and then also stash this facial mist in among the ice cubes. A spritz of the cool mist is so refreshing in the heat. The active ingredient, Pitera, was discovered in the sake fermentation process in Japan when brewery workers' hands showed fewer signs of aging than did the rest of their skin. Pitera is rich in vitamins and minerals that counteract uneven pigmentation that can be triggered by sun exposure."
[section asset=question-5.png]
TOM FORD Soleil Blanc
[section single_product=soleil-blanc]
"This fragrance is a distillation of glamorous sunshine in its most sophisticated form. The pool at the Isle de France on the island of St. Barths where we married (pictured above) is one of my most favorite places and Soleil Blanc takes me there in scent memory, even if I'm in the office! When I received a pre-launch sample vial of this fragrance it was an instant love-fest for me and I stashed it in my makeup bag immediately, where it has remained since."
[section slider linklists=poolside-products]