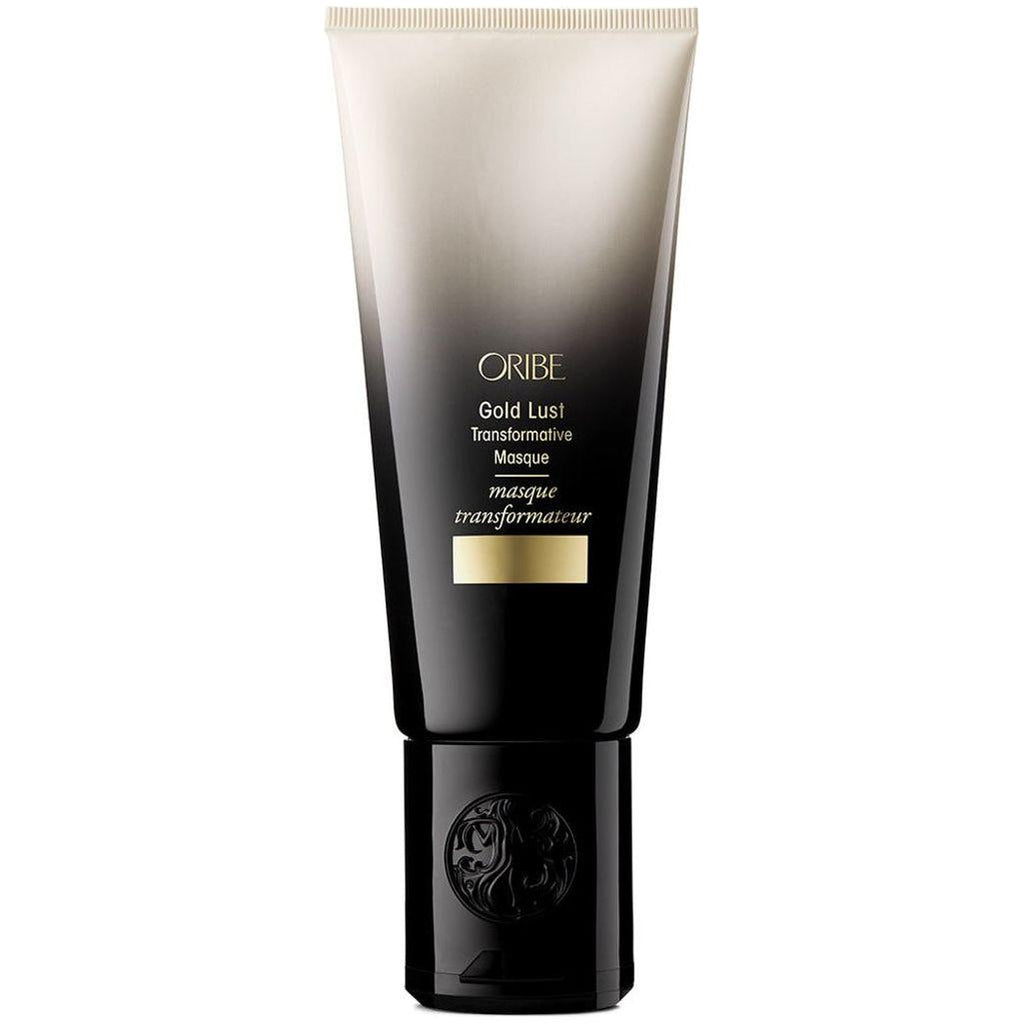 Oribe
Oribe Gold Lust Transformative Masque
$ 66.00
Earn in Beauty Capital™ with this purchase.
Not a member of our Beauty Capital™ program?
Sign up now
and start earning capital.
This truly modern remedy penetrates to rebuild each fiber with curative white tea, baobob and jasmine extracts and our bio-restorative complex, improving elasticity and fortifying hair to rediscover its softness, body and inner brilliance. Restore overworked hair to its prime with each dose.
HOW TO USE
Massage, indulge (for as long as you want), rinse.
BENEFITS
Provides intense nourishment and conditioning, Rebuilds and fortifies each fiber, Strengthens the cuticle and fills in weak spots, Improves elasticity for ageless hair, Adds softness, shine and body, Restores overworked hair to a youthful state.
INGREDIENTS
Oribe Signature Complex (Watermelon, Lychee and Edelweiss Flower Extracts)defends hair from oxidative stress, photoaging and the deterioration of natural keratin, all while protecting from the drying, damaging and color-depleting effects of the elements. Bio-Restorative Complex, including Plant Collagen, Caffeine, Biotin and Niacinamide, repairs damage by penetrating the root to fortify, deeply nourish and strengthen the cuticle from the inside out while also energizing the scalp and rejuvenating hair follicles. Baobab Oil from the Baobab tree, also known as the "Tree of Life" in Africa, is rich in Vitamins A, D, E and F, providing antioxidant protection from damaging and drying free radicals. White Tea Leaf Extracts softens and smoothes the hair. Jasmine Extract deeply nourishes and conditions. Strengthening Protein Blend reverses existing damage and reduces split ends. Shea Butter and Black Currant Fruit Extract restore overworked hair by deeply moisturizing and improving elasticity. Carrageenan Extract, derived from seaweed, moisturizes and softens hair to a youthful state.
Questions?
+ May I exchange an item, even if it was given to me as a gift?
To exchange a product, please contact us directly at contact@sherberandrad.com or call 1.202.517.7299. Please be aware that returned items must be unopened, undamaged and with original factory seals intact; if the item is damaged or the original seal has been broken then the item is not returnable. Thank you for your understanding.
+ What special shipping arrangements do you offer?
Local Delivery
We offer $25 same-day local messengered delivery to addresses within a 5-mile radius of the boutique. Orders that are received past 2pm EST may not be available until the following working day.
Ground Shipping
We offer complimentary ground shipping via UPS on all U.S. orders greater than $75.00. Your package should be delivered within 5 working days.
Second Day or Overnight Delivery
We offer complimentary 2-day shipping for orders greater than $250. You may select overnight shipping at checkout. Your order must reach us by 2pm EST in order for it to be processed that day.
Holiday Shipping
Shipping will not be available on federal holidays.
+ Will this product pair well with what I currently use?
All products in the S+R Boutique have been expertly selected and may be used as part of a customized regimen, tailored to your specific skin concern or to your unique goals. We are happy to share expert advice to optimize your current regimen and we encourage you to contact our team during regular hours [10am – 6pm EST] via phone [202.517.7299] or email [contact@sherberandrad.com].
+ What is the S+R returns policy?
SHERBER+RAD will accept returns per the following conditions. Thank you in advance for your understanding. All returned items must be accompanied by the receipt and all original components and packaging within 30 days of the purchase date. Absence of, or damage to, any items that accompanied the original shipment will void the issuance of a refund or store credit. Returned items must be unopened, undamaged and with original factory seals intact. If the item is damaged or the original seal has been broken then the item is not returnable. No refunds are permitted on prescription products, or on services rendered. In place of returned items, we would be happy to help you select a different product.
Gift Wrapping
Your order is tax-free when shipped to a domestic address outside of Washington DC. For orders over $150 shipped domestically, we offer complimentary gift wrapping in a luxe box with magnetic closure and matching ribbon, as well as a personalized hand-written note to the gift recipient. If you would like to take advantage of this service then please type "gift wrap" in the "SPECIAL INSTRUCTIONS" field on check-out.