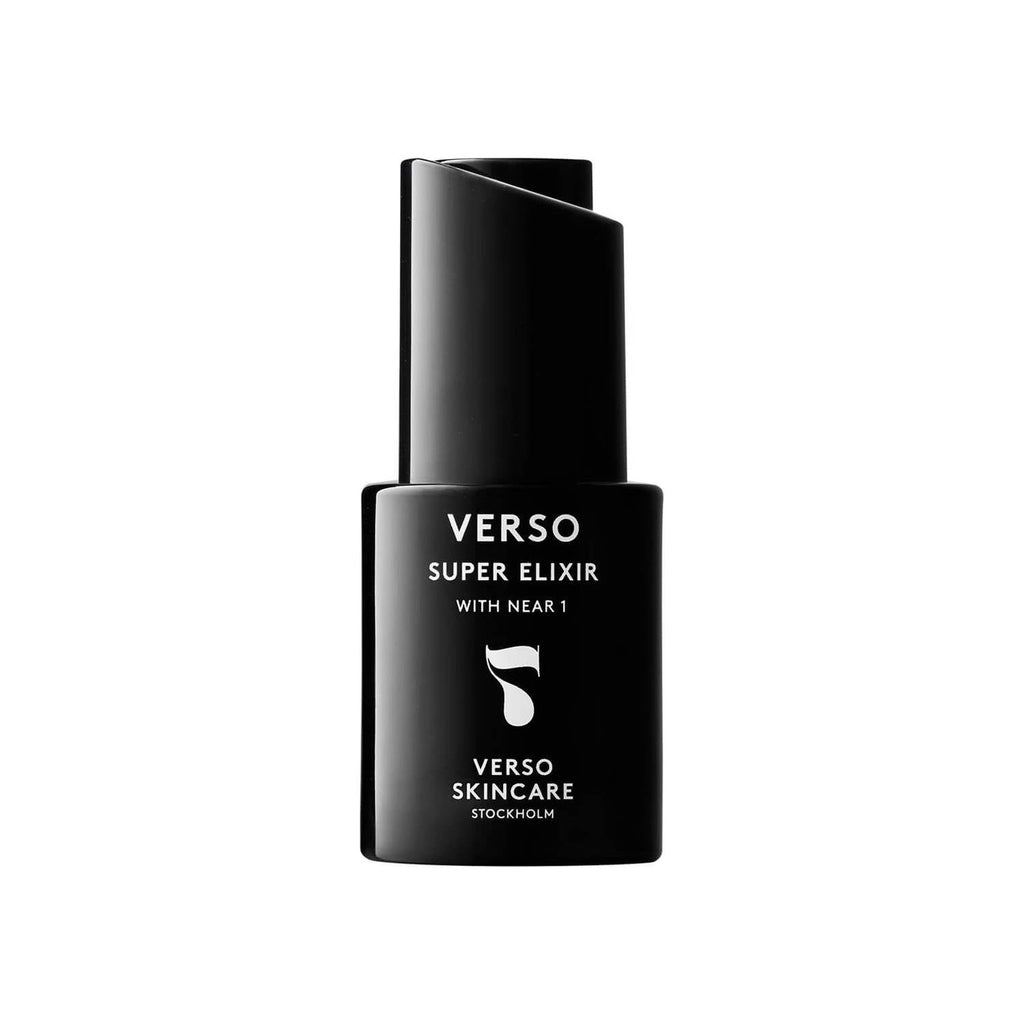 Verso
Verso Super Elixir
$ 195.00
Earn in Beauty Capital™ with this purchase.
Not a member of our Beauty Capital™ program?
Sign up now
and start earning capital.
Verso Super Elixir is a brightening, moisturizing, and nourishing facial serum formulated and developed to target the appearance of uneven skin tone. The formula contains NEAR 1, the new and unique Verso molecule which combines Vitamin A and Niacinamide (Vitamin B3) in one versatile technology.
Additionally, this facial serum contains a few highly concentrated and functional ingredients. The serum is formulated to improve the appearance of even skin tone and to help the skin to be more resistant to the visible effects of environmental stressors.
A study shows that Verso Super Elixir is hypoallergenic and can be used on sensitive skin.  
HOW IT WORKS 
Verso´s new, unique molecule, NEAR 1 (Niacinamidoethyl Retinoate), combines Vitamin A and Niacinamide, where Niacinamide helps to further stabilize and enhance the benefits of Vitamin A. The result is a stable Vitamin A that can work effectively and gently on the skin – the first of its kind. The benefits of using this stable form include its ability to deliver the visible results of Vitamin A with less to no irritation. A study shows that Verso Super Elixir effectively decreases the appearance of uneven skin tone, providing a smoother skin texture with a healthy-looking radiance. 
Verso Super Elixir contains licorice root to boost soothing and enhance brightening results.    
One of the emollients used in this formula is Squalane, an oil-soluble ingredient found in the skin's natural oil called sebum. Its properties make it easily absorbed and suitable for all skin types. Squalane has long-lasting moisturizing benefits and can help to take care of your skin with its natural defenses. It is an excellent carrier for the functional ingredients in the formulation. This enables the ingredients to be delivered where they are needed the most and can thus perform their best. 
HOW TO USE 
Apply some drops in the morning and/or evening on cleansed skin. We recommend starting with fewer drops if you experience an oilier skin condition. Use it alone or together with other skincare products. Protect your skin during the day using a sun protectant, at least SPF 30, to maintain results and healthy-looking skin. 
Questions?
+ May I exchange an item, even if it was given to me as a gift?
To exchange a product, please contact us directly at contact@sherberandrad.com or call 1.202.517.7299. Please be aware that returned items must be unopened, undamaged and with original factory seals intact; if the item is damaged or the original seal has been broken then the item is not returnable. Thank you for your understanding.
+ What special shipping arrangements do you offer?
Local Delivery
We offer $25 same-day local messengered delivery to addresses within a 5-mile radius of the boutique. Orders that are received past 2pm EST may not be available until the following working day.
Ground Shipping
We offer complimentary ground shipping via UPS on all U.S. orders greater than $75.00. Your package should be delivered within 5 working days.
Second Day or Overnight Delivery
We offer complimentary 2-day shipping for orders greater than $250. You may select overnight shipping at checkout. Your order must reach us by 2pm EST in order for it to be processed that day.
Holiday Shipping
Shipping will not be available on federal holidays.
+ Will this product pair well with what I currently use?
All products in the S+R Boutique have been expertly selected and may be used as part of a customized regimen, tailored to your specific skin concern or to your unique goals. We are happy to share expert advice to optimize your current regimen and we encourage you to contact our team during regular hours [10am – 6pm EST] via phone [202.517.7299] or email [contact@sherberandrad.com].
+ What is the S+R returns policy?
SHERBER+RAD will accept returns per the following conditions. Thank you in advance for your understanding. All returned items must be accompanied by the receipt and all original components and packaging within 30 days of the purchase date. Absence of, or damage to, any items that accompanied the original shipment will void the issuance of a refund or store credit. Returned items must be unopened, undamaged and with original factory seals intact. If the item is damaged or the original seal has been broken then the item is not returnable. No refunds are permitted on prescription products, or on services rendered. In place of returned items, we would be happy to help you select a different product.
Gift Wrapping
Your order is tax-free when shipped to a domestic address outside of Washington DC. For orders over $150 shipped domestically, we offer complimentary gift wrapping in a luxe box with magnetic closure and matching ribbon, as well as a personalized hand-written note to the gift recipient. If you would like to take advantage of this service then please type "gift wrap" in the "SPECIAL INSTRUCTIONS" field on check-out.