5 Questions: May Lindstrom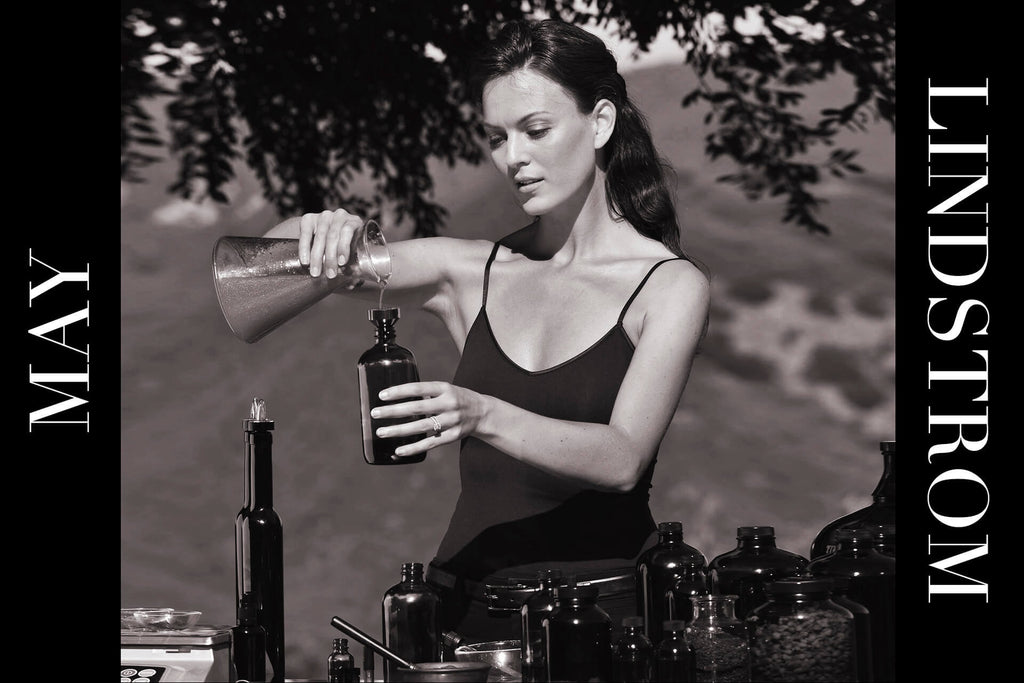 [section caption=L.A.-based facialist May Lindstrom personally oversees the blending of her nourishing and nutrient-rich formulas.]
[section asset=question-1.png]
What motivated you to create The Honey Mud and The Blue Cocoon?
The Honey Mud and The Blue Cocoon are both incredibly special to me, and were released on the same day one year after the launch of our original four treats to specifically address the needs of clients like myself - with desperate skin that is hypersensitive, temperamental and that typically retaliates against everything.
The Honey Mud lived in my imagination for years before it came to life under my fingertips. I dreamed of a formula that would marry my three favorite things - raw honey, pure plant oils, and gorgeous clays. The day this blend took final form was one of much celebration.
The Blue Cocoon was the formula I dreamed about my whole life and the one I am most proud of and personally attached to. This is essentially the most beautiful facial oil you've ever experienced in a unique waterless and waxless balm form. In the jar, it is a solid. Once it touches skin, it turns immediately to a lovely fluid. This is used both as a daily hydrator or as a special treatment for skin that is sensitive, inflamed, damaged, acneic or irritated. It can be used as a spot treatment or for the full face, neck and décolleté. It is a powerful anti-inflammatory and soothes skin in the most beautiful way, providing the perfect level of hydration and healing, eliminating redness and irritation. It works wonderfully for all skin types, and is especially effective for those prone to eczema, psoriasis, dermatitis and rosacea, as well as skin recovering from trauma or surgery. The Blue Cocoon contains the superhero ingredient blue tansy, which calms and relieves inflammation on a magical level. It's like a meditation and spa vacation for your skin.
[section asset=question-2.png]
What process did you go through to develop these waterless preservative-free formulations?
Sometimes a new trial will begin with an ingredient that has me enamored (which was the case with blue tansy when I discovered it several years ago, and ultimately became the star of The Blue Cocoon). Other times, it's to address a particular skin concern (acne, eczema, painful inflammation, etc), or to fill a gap that feels apparent in the ritual I present. I have visions, and it might be as simple as seeing the texture or color of a final treat, or catching scent of something that lives in my imagination and going on a wild adventure to make it spring to life.
[section asset=quotation-mark.png]
"It is important to me with every formula that each individual ingredient be vital and beneficial to the skin itself."
- May Lindstrom
[section share]
It is important to me with every formula that each individual ingredient be vital and beneficial to the skin itself. I never want to add something just to add color, scent, stabilize texture, lengthen shelf life, etc. unless it is actually serving our skin. This is a challenge, but one I take great pride in. By eliminating water or other fillers from my formulas, I not only provide a more potent product, but also eliminate the need for sensitizing and potentially dangerous preservatives. I want every ingredient in each formulation to be worthy of celebration!
[section asset=question-3.png]
What qualities of these products are most exciting to you?
Number one: They work. My formulas are truly effective in a way that is rarely seen. The results are extraordinary.
While I have given an incredible amount of attention to designing a collection that creates a feeling of decadence and celebration, my very core is as basic and grounded as it gets. My formulations are not magic, it's better than that. The changes you will see in your skin over time will not be an illusion and they will not be temporary.
My goal is always to restore your own natural balance, to bring health to your skin and to illuminate the vibrancy of your beauty in a way that will grow as you do, sustainably and naturally.
[section single_product=may-lindstrom-the-blue-cocoon]
[section caption=The Blue Cocoon is a multi-tasking balm that calms and cools irritation and inflammation.]
[section asset=question-4.png]
What most inspires you?
I delight in the discovery of new scents, colors, textures and the beautifying magic of plants and minerals straight from nature. Working intimately with these pure ingredients is heaven for me and infinitely inspiring. I love to breathe in something new, cup a drop of a flower essence in my palms, inhale and see where my imagination takes me. I like to envision who will fall in love with this new treat - who this man or woman is who will resonate with these elements once I've crafted it into a new blend.
Most importantly – Love is my inspiration. That of my dear husband, my beautiful four year old daughter, the tiny boy blossoming in my womb, our wonderful friends and family and the souls that scatter our planet who I do not know personally. We are all interconnected. Remembering this fuels me, stirs my coals and makes me strive to always be the fullest and most potent version of myself.
[section single_product=may-lindstrom-the-honey-mud]
[section caption=The Honey Mud gentle cleansing silk is a luxurious cleanser that is blended from raw honey and white halloysite clay that will leave your complexion feeling balanced.]
[section asset=question-5.png]
What is the best advice you've ever received?
My mother would always tell me as a little girl to never dull my light for anyone. As a woman, it can be easy to feel like we should hold back just a bit – not be "too much" for the world, too strong or beautiful, opinionated or independent. It's engrained in us to tone down. She showed me that I am at my and authentic best when I allow myself to unapologetically shine bright with every cell of my being, with all my truth and heart.
[section slider linklists=may-lindstrom]